Let's pick uo where i stopped yesterday.....while having lunch....i took this pic of amelia from my place about 2 tables away....this scene after converting to B&W could had came our from a P. Ramlee Movie :p
BBQ Dinner
Due to the increase in hard liquor, we had to yum seng using plain water : (
This pic have to be a classic candid shot.....so many expressions in one pic....ahahahaha
Part of the buffet spread...
After dinner, we adjourn to jessie's room for some after dinner activity.....as usual there was gambling...without money that is....
But soon, we got bored.....and Sheffield United vs Reading wasn't appealing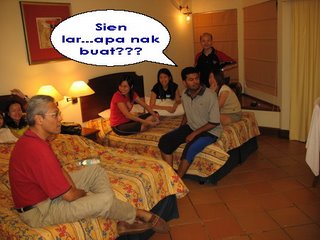 Then the person holding the camera, Mr Joshua Yong said.....
Everyone went.....OKAY!!!!!!
The bladi blogspot server is giving me a lot of grief, half of the pics i uploaded is now gone...and i am farkin tired....i will complete this entry tomolo...